"A Tracker study is a system of identifying, converting and nurturing Consumer Sentiments towards long term Company Investments."
A tracking study evaluates the varying views of a set group of consumers, turning it a most operative tool for the market research vertical. It has been observed that the tracking studies offers product managers, decision-makers to measure brand awareness, track customer satisfaction, understand consumer sentiment towards a new product or services, or analyze the efficiency of specific marketing operations. The main idea behind a tracking study is to monitor information over a period of time, creating a continuous change, moreover identifying trends and comparisons with the benchmark such as against competitors, against last month or last year etc.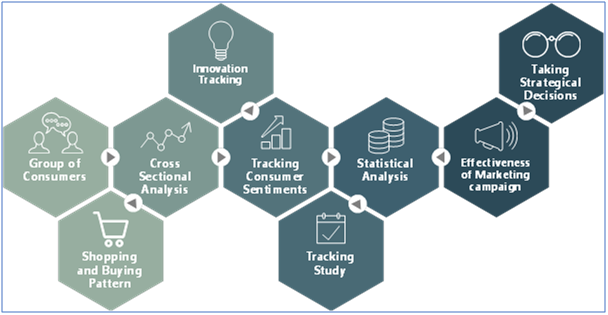 Chromatus with the help of in-house panel and with statistical model partners client in knowing the pulse of key factors, alarming on the disruptions, further measuring a short-term impact and ultimately in strategic decision making.
Benefits
Chromatus helps in tracking a study which mostly on a longitudinal basis, and helps in examining the changing views of the same people over a period of time. On the other hand, a cross-sectional tracker study helps in understanding the consumers' views at a single point in time. While marketer has the option to choose the study pattern which can perform a series of data-points to uncover the key insights from different groups of people. In other words, a tracking study by Chromatus has given their client strong confidence in the shifting in consumer sentiment reflecting actual changes, since we have over the period of time are asking the same respondent the same questions at different times.
Performing a Tracking Study
Chromatus helps in identifying and analysing respondents' information and then design a tracking study that exactly discloses the data client is after. For example, if you want to calculate and understand the key effectiveness of an upcoming marketing campaign. The first step would be to find a relevant group of population base and are willing to fill out a detailed questionnaire or participate in a focus group. Post that, Chromatus with the help of statistical tools and with the years of experience in the Market Research Industry provides a detailed overview of the problem areas.
Results :
The Chromatus will help in understanding the unique difference between consumer sentiment before and after the marketer's campaign and helps in aligning with the goals of the campaign to garner the desired success. If Chromatus found no change in the consumer perception, or if the change was adverse, the marketer will know of the failure of the campaign. In both cases, the Chromatus feedback quantifies the effect of a marketing campaign, helping in improving future strategic campaigns.
Factors
There are numerous factors which help in determining the effectiveness of a tracking study. Chromatus not only identifies in choosing a respondent's, consumer demography is also important, as is survey questions that are directly relevant to the core issue strategist wants to study. Chromatus manages complex calculations and a thorough thoughtful of consumer-research procedures. For all these reasons, we highly recommend marketers should consider engagement with a Chromatus market-research firm to conduct tracking studies.
How do tracking studies work?
Chromatus recommends that trackers have to be running on a monthly/quarterly basis, which can also help in linking to key business activity. Chromatus conducts through enabling comparison by time – with the same methodology, core questions, insights, and perception, etc.
In a simpler term, how can your business benefit from Chromatus tracking studies? 
Chromatus trackers help in understanding questions specific to business and broader market topics.
We provide the data through the ranking against the competitor set on key attributes and perceptions, bringing a better sense of customer reality to internally held beliefs.
3. Brand's Spontaneous awareness is tracked by respondents' responses from a given list of any previous/current usage and timeframe for last used – which includes usage of the website, purchasing pattern, spending pattern, Likelihood of usage, Trials, etc.
4. When a brand manager is spending millions, it is good to know if a significant proportion of viewers believe the campaign is for the main competitor against key brand attributes
5. Moreover, Chromatus helps in calculating the Net promoter score (NPS) by tracking the consumers' perception towards brands, company, product, or services.